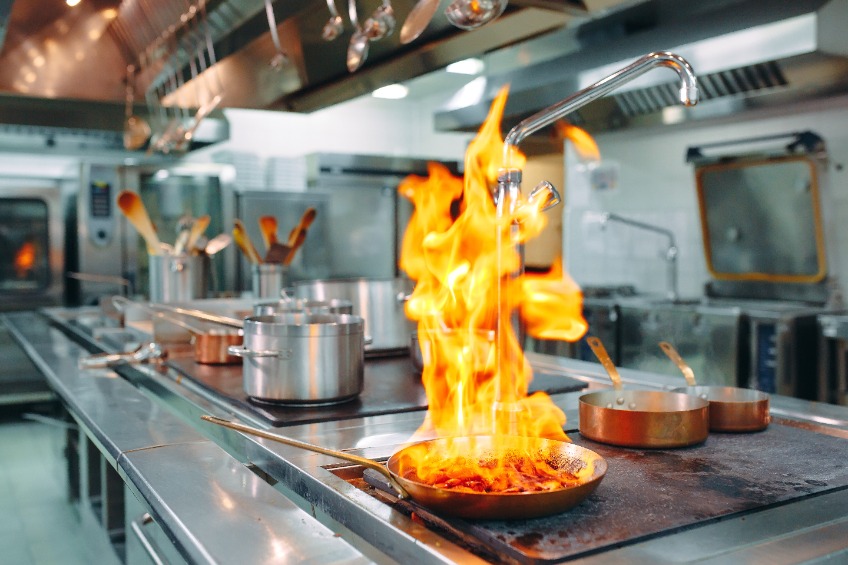 The Principles Of a Good Commercial Kitchen Design
Designing a commercial kitchen requires careful consideration of the many factors involved. From financial considerations to operational challenges, creating a kitchen that meets all regulations and runs efficiently is no small feat. To make sure you get it right the first time, there are several principles of commercial kitchen design that should be followed. In this blog post, we'll take a look at these important principles and provide best practices for designing an efficient and compliant space.
1. Work triangle
A successful commercial kitchen design takes into consideration the 'work triangle' between stove, refrigerator, and sink for efficient food preparation. The 'triangular' layout of these three primary kitchen elements creates an ergonomic flow of traffic between them, allowing the operator to move freely in a predictable path that is both practical and comfortable while prepping and cooking. Careful planning in the early stages of making each area easily accessible can reduce occupancy steps and improve safety during the busiest periods while improving your workflow efficiency. A well-designed work triangle saves time and enhances operational efficacy with minimized movement, maximizing productivity overall.
2. Benchtops
When it comes to designing the perfect commercial kitchen, porcelain benchtops are one design element that should not be overlooked. This attractive and adaptable surface offers a multitude of advantages such as its scratch, heat, and stain resistance due to porcelain's non-porous properties. Additionally, porcelain is known for being incredibly easy to clean, making it ideal for food preparation surfaces. Its durability also ensures it can withstand all kinds of wear and tear while maintaining its pristine polished look. Whether your project involves a restaurant, café, or bar, porcelain benchtops provide a strong and stylish solution sure to make a lasting impression.
3. Storage
When designing a commercial kitchen, it is important to maximize storage capabilities. Investing in cabinets, drawers, and shelves that reach all the way up to the ceiling is the best way to utilize all of your available space. Not only does this allow for the efficient organization of cooking items, but it ensures that everything necessary to create delicious meals can be accessed quickly. Additionally, this arrangement helps keep your kitchen clean and tidy while making efficient use of vertical surface area so staff can work more efficiently.
4. Ventilation
With the stakes often being high in the commercial kitchen environment, it is essential for your staff and customers to be kept safe. One of the most effective ways to ensure that proper health and safety standards are maintained is to ensure that your kitchen has proper ventilation. Not only will this ensure that no dangerous fumes or smoke linger around that could potentially lead to long-term illnesses, but it can also make sure your kitchen maintains a pleasant atmosphere for everyone involved. Investing in good-quality ventilation not only keeps everyone safe but also contributes to greater productivity and efficiency for optimal output. The initial investment will surely pay off in the long run in the form of fewer accidents due to smoke exposure, increased morale among staff members, and a better experience overall for your customers.
Layout and design are critical when considering a new or remodeled commercial kitchen. You need to ensure that the space meets all of your needs for both food preparation and storage, as well as taking into account any special equipment you may need. The layout should be designed with efficiency in mind, so be sure to consult with a professional to get the most out of your space. With careful planning and execution, you can have a commercial kitchen that not only looks great but functions fantastically as well.