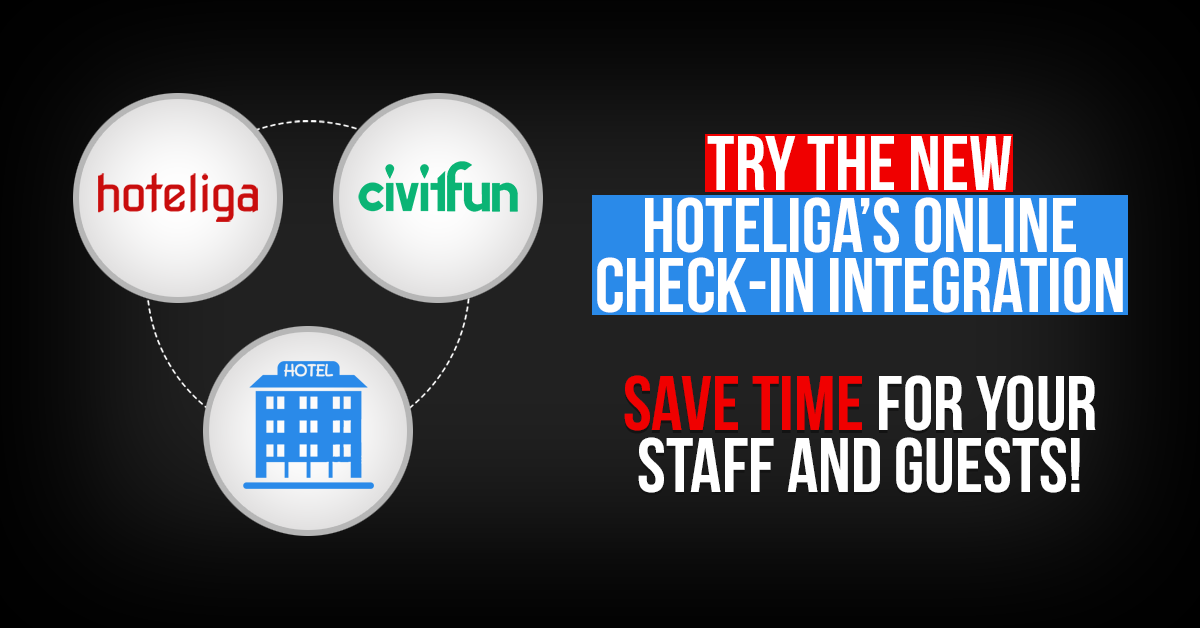 hoteliga and Civitfun New Business Partnership
hoteliga Welcomes Civitfun Platform in New Business Partnership – A Complete Hotel Management Solution
Hoteliga is the leading hotel management solution platform and it has teamed up with Civitfun, an online check-in platform, to give their hotels a complete hotel management package. We take a look at both platforms, how the integrate with one another, and what this pioneering move means for making hotel management simpler.
The Trouble with Check-In – Civitfun Solution
For the hotel owner, there is probably nothing more important than understanding what the guest actually needs and what is their experience with your hotel from the arrival point to departure. Just put yourself in your guests' shoes and imagine how their journey up until your check-in desk usually looks like.
The car ride has been long, it started off with excitement that gradually waned; leaving a car filled with boredom in its wake. Pulling into the hotel carpark you notice a pay and display billboard along with parking meters. Now it's time to unload the children and luggage from the car. The hotel looks lovely, a modern clean building with crisp architecture and a welcoming feel. Certainly, the bed would be very welcome at this point in time.
Suitcases and children in tow you make your way to the hotel lobby. Check-in time.
Upon arrival at the reception you're greeted by a queue. The children are running around excitedly and you both do your best to keep them under wraps without them causing too much chaos. The queue is moving but at a slow pace. Another 3 guests are in front, with a foreign man checking in at the desk.
15 minutes later you arrive at the desk. The receptionist greets you and asks for your reservation details. While he taps at a screen he passes you a form to complete. The form requires a bit of attention, collecting information such as names, addresses and the vehicle licence plate. You complete this with a pen that is low on ink delaying the process further. Handing back the form you feign a smile.
The receptionist then proceeds to copy the information from the form onto his computer. Another few minutes pass. By now you have given up completely on the children who are running riot in the lobby throwing soft toys at one another.
The receptionist hands you the key, followed by complicated directions to help you navigate towards your room. Check-in completed you leave the desk and the next guest wearily makes their way to the desk.
Civitfun – A New Way to Check-In
If anything, this story highlights a process many of us are familiar with. It is a typical check-in that brings misery to guests and hoteliers all over the world. Civitfun have created a new online check-in platform that can be integrated with hoteliga to remove the woes and stresses of a traditional check in and provide a fast seamless check-in experience.
Civitfun – Personalised Hotel Check-In System
The modern guest is a busy guest; with the world using online/virtual solutions for almost everything, checking-in to a hotel is now considered a bit antiquated. Traditional check-in processes are often time consuming and can be broken down into 5 aspects; with Civitfun the check in process alleviates a lot of the hassle for your guests whilst working to your advantage (more on this further down) as a hotel owner.
Traditional Check-In VS Civitfun
Traditionally a guest will make their reservation and will receive confirmation of their booking ordinarily by email. They will then check-in to their hotel on the day of their stay, arriving at the hotel, normally forming a short queue with other checking-in guests and then completing any information required at the front desk. Once that information has been completed, a hotel will then input the data onto their personal management system and issue the guest with a key. By the time this has been completed (let's say best case scenario it is ten minutes from start to finish) the hotel staff then go through the "Welcome" dialog with an impatient guest who wants nothing more than to drop their bags in their room.
This means that currently all hotel stays following this process start off with at least a mild frustration. It inconveniences the guest and prevents the hotel staff from giving a warm welcome without the red tape and formalities.
With Civitfun a guest makes their booking. Receives a confirmation email with a link to online check-in. Checks-in online (completing all necessary information there) and then has the warm welcome they deserve after their journey to the hotel. Civitfun integrates with Hoteliga and drops all of the information into the hotel management system.
Benefits of Civitfun
Here are the key features of Civitfun's online check-in system;
Faster processing times for guests arriving at the hotel
Fully automated system that communicates with Hoteliga throughout the check-in process
Data collection that is verified and accurate for purposes of security and marketing
Reduces hotel staff workload and saves staff time
hoteliga and Civitfun
Getting this combined package has never been easier. With Civitfun integrating fully with hoteliga's hotel management platform you can bolt on Civitfun to your package. If you already use hoteliga as a hotel management platform then get in contact with us to arrange adding on Civitfun. If you're looking to subscribe to hoteliga and boost your hotel revenue, save time and become more efficient then make sure you add Civitfun onto the package when you sign up.
All in all, the combination of the platforms makes for a pioneering and dynamic hotel management system that works with hotel owners and managers whilst also making things less frustrating for guests. A true win/win situation.
Find out more about hoteliga's cost-effective prices and everything you need to know about Civitfun here.
Sign up now for an affordable monthly subscription to hoteliga with Civitfun!