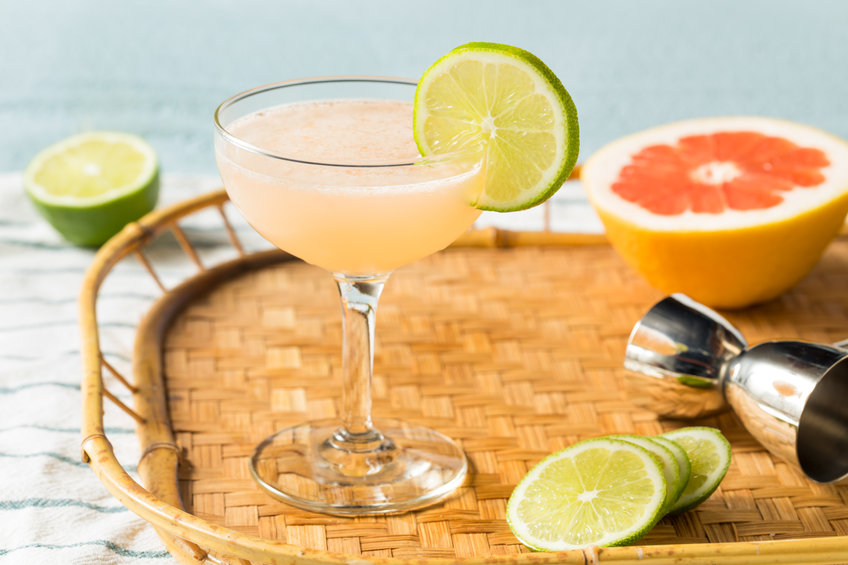 10 Classy Cocktails to Serve Your Hotel Guests This Spring
With spring right around the corner, your hotel will soon be buzzing with visitors once again. It's the perfect time of year for people to gather with friends and family and start their annual vacations as they venture out from hibernation.
To ring in the warmer temperatures and the start of the busy season, here are 10 classy, spring-inspired cocktails to whip up for your hotel guests.
1. Peach Bellini
The Peach Bellini was invented by Italian bar owner Guiseppe Cipriani in 1948 and has since become a brunch staple everywhere. The cocktail's coloring is inspired by the beautifully painted landscapes of 15th-century Venetian painter Giovanni Bellini.
While prosecco and white peach puree made up the original recipe, preparing it with yellow peach puree, peach nectar, or peach schnapps is common. You may also decide to add a bit of raspberry juice for color and taste.
2. Basil Martini
Martinis are one of the most iconic, classiest cocktails in the world. The original martini recipe calls for only a few ingredients, including gin or vodka, dry vermouth and ice.
This spring, spruce up your martini recipe with a refreshing blend of muddled basil leaves and a bit of simple syrup. You may even add a squirt of lime juice or lime peel as garnish.
Your guests will love this sophisticated twist on a classic beverage.
3. Hemingway Daiquiri
If you're searching for the perfect liquor pairing for your seafood specials, look no further than a Hemingway Daiquiri. This cocktail is equal parts sweet and tart, playing off the saltiness of shellfish delicacies.
All you need are four simple ingredients for the Hemingway Daiquiri, including rum, lime juice, grapefruit juice, ice and maraschino liqueur.
Shake the ingredients in a cocktail shaker with ice and strain the liquid into a chilled glass. Feel free to add a slice of lime for garnish, as well.
4. Mint Julep
Mint is cool and refreshing for spring. That's why your guests will love seeing a traditional Mint Julep on the menu.
Popularized in the American south during the 18th century, while also being the primary drink at the Kentucky Derby, this bourbon-based cocktail is easy to make and enjoyed throughout the year.
You'll need slightly-muddled mint leaves, bourbon, simple syrup and mint sprigs for garnish to make this classy beverage. Plenty of crushed ice is also an essential ingredient for this cocktail.
5. Cherry Breeze Martini
A martini is a favorite cocktail that inspires many variations. Take this Cherry Breeze Martini recipe, for example. It delivers a fruity flavor that will leave your guests wanting more.
Ice, cherry vodka, cranberry juice and pineapple juice are all you'll need for this drink. Shake the ingredients together in a cocktail shaker and strain your concoction into a martini glass.
6. Sangria
Serve up an authentic white or red Spanish sangria at your hotel's next brunch. Feel free to add whatever fruits are in season during the spring, such as oranges, limes, pineapple, strawberries and raspberries. You can also include apples and pears if you like.
Although there are several different recipes for this bold and fruity cocktail, the ingredients for a classic sangria recipe typically include rum, orange juice, a bottle of wine and sugar.
7. Mimosa
Mimosas are another light and festive brunch beverage beloved by many. Serve up mimosas for springtime holiday parties, bridal showers and other celebrations held at your hotel.
All a classic mimosa recipe calls for is champagne or prosecco and orange juice. Champagne flutes are specifically designed to hold carbonation for long-lasting fizz.
Make sure to chill your champagne before pouring. Fill each glass with equal amounts of each ingredient and serve.
8. Bloody Mary
Is there anything better than a Bloody Mary to start the day or alongside appetizers? Serve your guests an original Bloody Mary recipe, believed to include the following ingredients:
Tomato Juice
Vodka
Woscerstershire Sauce
Black Pepper
Celery Salt
Tabasco
Lemon Juice
Mixologists have altered this classic drink with different spices and garnishes over the years. Feel free to create a version of the Bloody Mary that will long be associated with your hotel. Some ideas could include adding paprika, Old Bay seasoning, olives, herbs, pickle juice, celery stalks and more.
9. Negroni
Before serving dinner, offer your guests a Negroni—a classy cocktail to include on your hotel's spring beverage menu. The Negroni is a beautiful palate cleanser and contains gin, Campari and sweet vermouth.
Mix your ingredients in a cocktail shaker and strain into a cocktail glass filled with ice. Add an orange peel twist for garnish.
10. Lemon Drop Martini
Some guests like their cocktails on the tart side, making lemons one of the most refreshing ingredients for springtime beverages.
Try this delectable Lemon Drop Martini that blends vodka, lemon juice, triple sec and simple syrup.
Shake the ingredients together with ice in a cocktail shaker. Then strain the mixture into a glass coated with lemon sugar. You can also add raspberries, a lemon peel or a bit of thyme to give it a little extra springtime flair.