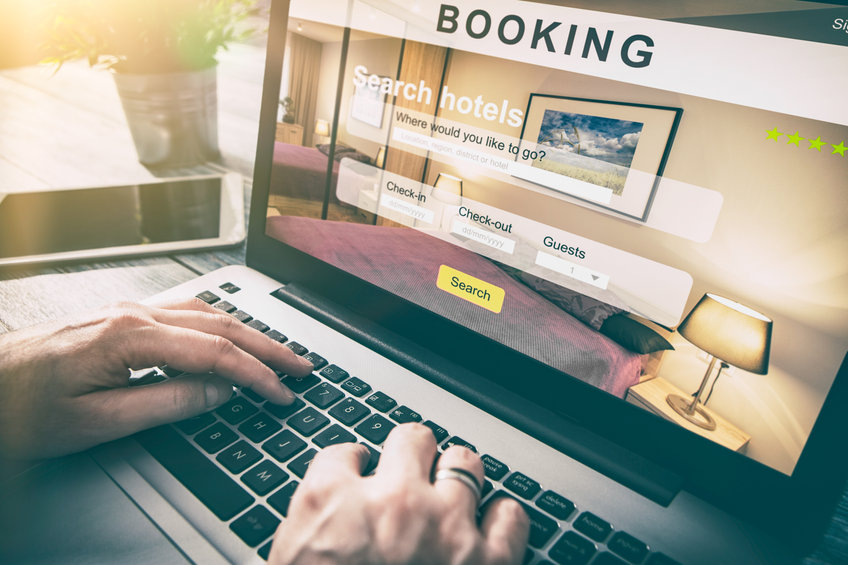 5 Ways E-Commerce Is Impacting the Hospitality Industry
The hospitality industry has long realized that e-Commerce is a powerful tool for building a business. This industry not only has corporate websites, but it also adapts its operations to global network trends. Do you know how e-Commerce affects the hospitality industry
Many industries use Internet technologies to build sustainable business relationships. According to statistics , e-Commerce sales exceed $4.2 billion in 2020, with over two billion people purchasing services and goods online.
The hospitality industry is no exception. It also benefits from modern technological advancements. It employs e-Commerce as a tool to increase service sales, engage more new customers, and activate consumer advertising.
What Does E-Commerce Mean?
The term "electronic commerce" (e-Commerce) refers to the delivery of goods and paid services via a global information network. It is any transaction that occurs over a computer network and results in the transfer of ownership or the right to use a product or service from one person/business to another/customer.
For example, students are often unsure how to write a specific document or essay and almost certainly seek assistance. After reviewing dozens of essay review websites, including Writing Judge , they will find one that will complete the required task. The majority of such websites allow customers to order and pay for their services online. That is how e-Commerce works in practice.
The term "e-Commerce" in tourism is defined as the process of organizing the sale of a tourist product or individual tourist services through the use of information and communication technologies. This procedure includes using the system of electronic funds transfer from the consumer's account to the tourist organization's account.
Why Use E-Commerce for Business?
Using e-Commerce has many advantages for businesses:
It increases the efficiency of business process management
It reduces production costs
It provides freedom from state borders, taxes, and other barriers
It allows businesses to operate 24/7
It allows for interactive communication with customers
It allows for instant payment
It provides access to unlimited coverage
What Are the Advantages of e-Commerce for the Tourism Industry?
E-Commerce provides businesses with a powerful platform to expand and present their services to customers. It encourages and motivates businesses to revolutionize and advance their services to provide a better customer-centric experience.
For example, thanks to e-Commerce, traditional travel agency selling methodologies have been replaced by a more convenient provision of services such as booking a ticket or planning a vacation via websites, emails, and social media. Let's look at some other ways e-Commerce affects the hospitality industry.
1. Personalized Customer Service
Modern technologies have transformed e-Commerce into one of the primary sales channels, supplementing traditional live client communication and expanding opportunities for remote personal service. Online sales provide brands with critical data for further interaction:
Customer name
Birthday
Gender
Purchase behaviour, etc.
Based on these details, a company can provide personalized services to its customers, from sending birthday discounts to making product recommendations based on the customer's preferences. Providing personalized services increases customer engagement by making them feel like individuals rather than other customer.
This strategy increases sales by displaying more of what clients would like to have. This unique feature increases the likelihood of converting a visitor into a buyer.
2. Increased Brand Awareness on a National and International Scale
With the advancement of technology, the number of online capabilities for business development grows. That is why hoteliers try to use as many tools as possible to increase brand awareness domestically and internationally.
The more people who learn about the brand, the more likely it is that customers will use its services soon. If the hotel did nothing to put itself on the map and make people aware of it, it would be unlikely to succeed in this industry.
As a result, it is critical to popularize, collect, and analyze information in the industry. Aside from that, you should always investigate what people want and are looking for to become the one who can provide them with a dream vacation, personalized services, breathtaking sea views, etc.
You can attract international customers by publishing essential information about your brand on a website blog or social media networks. If writing is not your strong suit, delegate this task to Best Writers Online's essay review professionals, who will walk you through the fundamentals of writing. As a result, you will be able to create high-quality content that is both audible and visually appealing.
3. It Promotes Retargeting
Retargeting is used to track customers who have left the sales funnel for any reason. It is a strategic method of reminding the client of the goods or services in which he was previously interested.
It assists him in returning to the site to complete the action, namely booking a room or service. There are numerous options for setting up retargeting:
If the user has been watching budget numbers in your region for a long time, show him a number from this category so that he does not have much time to think.
Has the customer sent the "Callback" form? Then invite him to join the loyalty program and show him the benefits that he will get.
Furthermore, advertising systems can effectively target audiences similar to your customers. Individual email mailings, in addition to retargeting, will allow you to increase conversion. They should include offers that are beneficial to the client in terms of his preferences and viewing history.
4. It Encourages the Use of VR Technology in the Hospitality Industry
Virtual Reality (VR) technology has been around for quite some time. Following the introduction of the first commercial consumer headset , this smart gear moved from the gaming industry to the hospitality sector.
They use VR technology to give potential customers a "virtual" tour of the hotel, its surroundings, gardens, bars, restaurants , and other available infrastructure facilities. VR piques the customer's interest, leading him to purchase a real tour.
While there is an abundance of VR technology to choose from, many hospitality properties are slow to implement it. Instead, they provide an experience without the use of a VR headset by utilizing 360 video technology.
On the Atlantis Dubai virtual tour, you can see how it works. It still allows you to virtually transfer into a space filled with luxury and relaxation.
5. It Improves Customer Access to Information
Gadgets are everywhere these days. They enable potential leads to find all the information about any location associated with the hospitality industry, from luxury hotels to lodges.
Furthermore, many hospitality businesses allow their customers to book the required room ahead of time, pay online, and receive all arrival details via email. With such information at one's disposal, one saves time and improves the overall travel experience.
Conclusion
The rapid development of information and communication technologies in modern society contributes to both the development of the hospitality industry and a communication network for attracting new customers. The global Internet has made e-Commerce more accessible for any business.
For example, whereas previously the organization of electronic data exchange required significant investments in communication infrastructure and was only capable of large tourist enterprises, the use of the Internet today allows electronic traders and small start-up firms to join the ranks.
The electronic tourism market is rapidly expanding. An examination of its growth dynamics reveals a rapid increase in electronic sales in the majority of the world's countries, which is likely to continue.