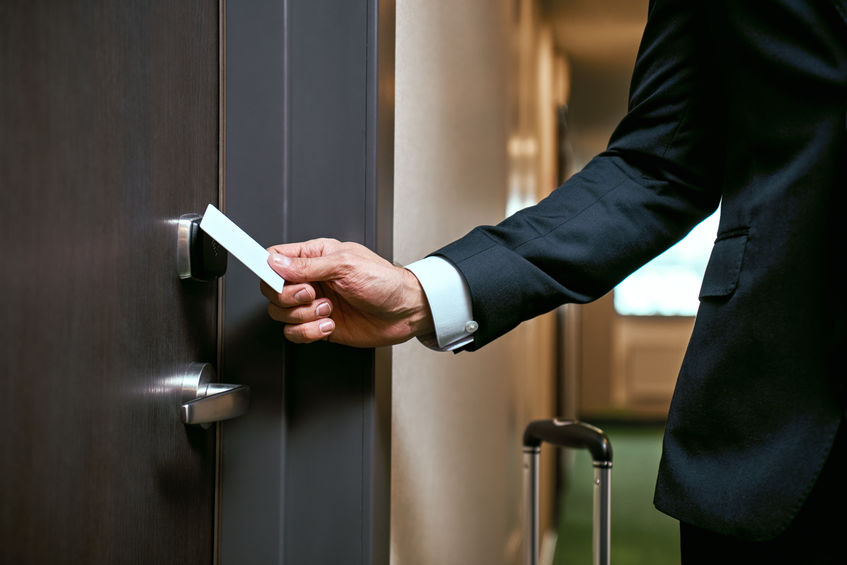 5 Ways Hotels are Adapting to the Pandemic
Introduction

Stats on how hotel sales and occupancy rates have declined since the on-start of the pandemic and a quote by the American Hotel and Lodging Association
With a sharp decline in travel demand, nine times worse than September 11, and with lower room occupancy than during the Great Depression, our small business owners are struggling to survive.
The key thing to keep in mind now, even if it's difficult with new harrowing headlines appearing every day, is to avoid panicking and to focus on long-term strategies to ensure your hotel doesn't suffer more than necessary during the current situation and is ready for a variety of possible outcomes.This is in addition to the thousands of hotels shutting down completely.

5 ways hotels are adapting to the pandemic

Shift focus to domestic travelers
Switch to contactless solutions
Optimize revenue better
Heightened cleanliness and sanitization
Rescheduling, and offering alternatives to cancellations

Conclusion

Examples of hotels that are coping with the pandemic + stats on the future of hotel functioning
The hotel industry has gone through crises before - and recovered
Hotels that will adapt to new technologies like contactless and digital solutions will emerge as a winner
---
5 Ways Hotels are Adapting to the Pandemic
As of June 24th, nearly 6 out of 10 open hotel rooms were empty since the pandemic started. Not just that, hotels are currently anticipating to lose up to $400 million in room revenue per day based on the current occupancy rates and revenue trends.
This is in addition to the thousands of hotels shutting down completely.
Chip Rogers, CEO of AHLA says, "With a sharp decline in travel demand, nine times worse than September 11, and with lower room occupancy than during the Great Depression, our small business owners are struggling to survive."
The unexpected shifts in the markets caused by the onset of the novel Coronavirus have left hoteliers across the world in unprecedented waters. However, the key factor to remember is, even if it is difficult to new harrowing headlines appearing each passing day, to avoid panicking and focus on strategies to ensure your hotel is ready for a variety of possible outcomes.
With that said, how can the tourism and hospitality industry survive the pandemic?
5 ways hotels can adapt during the pandemic
Shifting the focus to domestic travelers

With most international borders being closed, the travels have decreased and will continue to do so in the foreseeable future, domestic travel is still in the clear.

According to Google, search traffic for 'staycations' are up 50% so far in 2020. Domestic travel is not limited. This is the perfect time to persuade guests to visit your hotel for a staycation instead of an overseas trip.

Ensure maximum domestic market exposure by focusing on in-country advertising and encouraging guests by countering the impact of international travel restrictions and decreased flight timetables.

In addition, focus on metasearch advertising campaigns where there is still a significant amount of local travelers with a strong intent to book.

Hotels are considering putting extra emphasis on their existing features to locals. Be it an award-winning restaurant and bar, a rooftop infinity pool, or even a patio known for concerts - leverage geo-targeting tools such as a geofence or beacons to highlight these facilities.

Geo-targeted campaigns allow you to personalize content and facilities based on your visitors' location. Showing relevant content and emphasizing on other revenue streams will help balance the drop in room revenue.

Switch to contactless solutions

Several reports suggest that the virus may spread via contaminated surfaces. While pandemic-era policies are still being developed at hotels, it is safe to say that guests will see big changes the next time they arrive.

Christopher Anderson, professor of business at Cornell University's Hotel School in Ithaca, New York, says, "Hotel stays are likely to be a stripped-down affair, particularly in higher-end hotels where personalized service and amenities have long been part of the draw."

There will be minimal communal access in hotels - no buffets, bellhops, and many high-touch elements of luxury may be suspended.

Hotels are switching to contactless solutions with QR Code menus, NFC-enabled contactless keycards, and QR Code-enabled contactless engagement to minimize contact with the staff.

QR Codes can be generated quickly using a free QR Code generator that can be used for in-room dining, feedback, and even to analyze what the guests like and dislike.

Expect more keyless and contactless check-in and check-out systems with minimal personalized interactions.

Optimize revenue efficiently

Allison Handy, SVP of Sales, Marketing and Revenue Optimization at Prism Hotels & Resorts said, "Whether it's a cancellation fee or a few rooms for that government agency that needs a block of rooms, or that corporate team that has to be within arm's reach of the office — whatever small piece of business you can get is potentially one more employee that gets hours to work to put food on the table for their family.

"When we think of it in those terms, it's a new source of motivation to hunt for revenue."

Hotels and resorts are hosting live-streaming events for companies and high-level corporate officials to live-stream their conference or message to their teams helping them chip into the revenue stream.

For instance, RAR Hospitality has suspended sales calls to traditional groups but instead focusing on new markets, such as providing a replacement for office spaces for people who work remotely, those who need self-quarantine space, and project managers who continue to work even amidst the pandemic.

Make the most of your hotel space to provide guests with their current requirements. Assess and track the local market demands and trends to keep the momentum going. Utilize local groups and start-ups, or corporate companies that may require space to host their events, initial meetings, or even social distance gatherings.

Incorporate heightened cleanliness and sanitation practices

The American Hotel & Lodging Association released industry-wide Stay Safe Standards. Many hotel groups and associations all across the globe have released similar policies too.

Hilton is developing safety policies in conjunction with Mayo Clinics Infection Prevention and Control team. The hotel behemoth is also exploring the use of electrostatic sprayers and ultraviolet light to sanitize surfaces and objects.

Guests will expect the hotel management to be transparent with their sanitation and cleanliness practices for maximum safety. Make use of contactless solutions like QR Codes so guests can scan to learn when the hotel was last cleaned.

In addition, use contact tracing apps to keep track of guests' and staff's health status and learn about their travel history to filter out healthy vs unhealthy guests and curb the spread of the virus.

Masks and gloves for staff and masks for guests will be ubiquitous at hotels, and hand sanitizer and disinfectant wipes will be the latest additions to high-touch public places.

Rescheduling and offering alternatives to cancellations

With the sudden onset of the pandemic and its implications on hotels, travelers were forced to cancel their stay. Most hotels do not provide last-minute cancellations, due to which guests have suffered.

In light of the recent lockdown restrictions where hotels were forced to revert room revenue to the guests, hotels have suffered irrevocably.

Thus, hotels are utilizing their flexible features to highlight and personalize their offers to cater to their guests. The current pandemic creates a perception of risk for a guest looking to book a stay in the future.

For instance, if your hotel offers free cancellation for guests for future dates, highlight this offer and in addition, present an additional 10-15% discount for guests pre-booking for their stay and give your hotel a better chance at capturing the risk-averse customer.
Emerge as winners by innovating and highlighting the best features
Several premium hotels such as Hilton, Marriott, and Four Seasons, NYC have utilized their best features to maximize their revenue. Public spaces within hotels will need an overhaul for the post-COVID era.
Prewrapped, drop-and-go offerings will more likely be the solution for a safe environment at hotels for both staff and guests.
The hospitality industry has gone through crises before but recovered quickly nonetheless.
Hotels that will adapt to new technologies like contactless and digital solutions to assure their guests that their hotels are an avenue of safe space will emerge as the winner.
"We need to remember that when the market bounces back, it will be more difficult to push the rate up especially when the discounting has been too high in the crisis period," says Sunish of Chroma Hospitality.
This is the time for hotels to think of new initiatives to drive revenue and commit not only to surviving but also coming out winners.