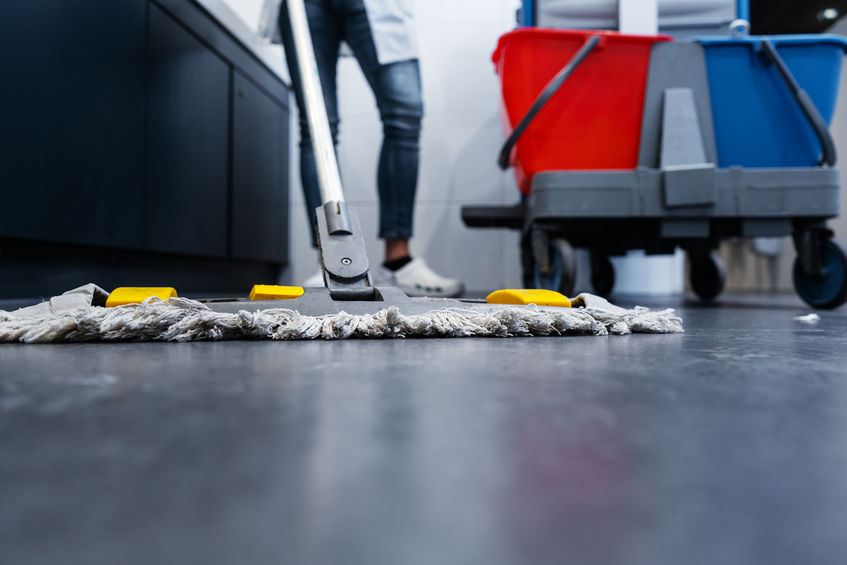 6 Tips to Sparkling Clean Floors in Hotels
Practically every guest expects spotless floors upon entering a hotel. Often, the condition of these high-traffic areas will clue them into how clean the rest of the building is. If there's dirt, scratches and stains on the carpets and floors, chances are your guest will stay with one of your competitors on their next vacation. Therefore, it's essential that you maintain the floors and design an effective cleaning regimen.
Make a good impression, gain loyal customers and improve word of mouth advertising with these helpful tips to achieving sparkling clean floors.
Vacuum Frequently

One of the best ways to keep your customers happy and your floors sparkling clean is to vacuum often. In fact, giving the lobby, hallway and other high-traffic areas a quick sweep once or twice a day is best practice. Choose long-lasting, commercial-grade vacuum cleaners based on the type of flooring you plan to clean. Then, practice good form by vacuuming slowly, cleaning in two directions and maintaining the vacuum itself.

Make a Cleaner

Vacuuming might pick up the chunks and brighten the carpet, but mopping will make your hardwood, laminate, tile and concrete floors shine. While you can dip the mop in a bottled cleaner, making your own solution may be more effective. Use tea or diluted apple cider vinegar to remove stains, dirt and grime without leaving a soap or wax buildup.

Use Microfiber Mops

Keeping floors dirt and dust-free is a breeze with microfiber mops. Microfiber is a soft, gentle material that's safe for hardwood and other sensitive surfaces. Plus, it attracts dirt like a magnet and is washable and reusable, which can save you money on cleaning supplies in the long run. Add water or cleaning solution as needed if you aren't dry mopping and wash the pad separately to prevent soiling your linens.

Address Stains Immediately

As a hotelier, you can expect to deal with spills, accidents and other mishaps that will dirty your floors and potentially leave stains. Luckily, you can prevent and remove stains by spot cleaning immediately after a spill and addressing stains as soon as you notice them. Use a specialty stain remover and dry the floor as quickly as possible to prevent further damage.

Invest in Better Flooring

Practically every square inch of your hotel is a high-traffic area, especially the floors. Thus, if you want them to last for a long time, you must invest in durable, high-quality flooring. Consider water, scratch and stain-resistant porcelain tile or dent-resistant laminate. Vinyl flooring is another excellent option that can sustain heavy foot traffic and frequent sun exposure.

Hire Cleaning Staff

If you don't already have cleaning staff, it's time you put together a team and hired some more employees. Teach them proper cleaning and sanitization methods and set clear standards for what the floors should look like. You might also hire a professional to periodically deep-clean carpets and hard surfaces. Often, they'll use commercial-grade cleaners and equipment that you wouldn't otherwise have access to.
Minimize the Mess
Of course, the most effective way to impress guests and keep the floors clean is to prevent them from getting dirty in the first place. Use doormats inside and out to clean guests' shoes as they come and go. Keep the parking lot, sidewalks and entryway clean as well to prevent people from tracking in dirt.
If you incorporate these simple tips into your routine and train your employees well, you should have little trouble minimizing the mess and showcasing sparkling floors all year long.
About the Author: Cora's passion is to inspire others to live a happy, healthful, and mindful life through her words on Revivalist – wholeheartedly convincing them that everyday moments are worth celebrating. Cora has spent 5+ years writing for numerous lifestyle sites - hence her sincere love for both life and the beauty of style in all things. Keep up with Cora on Twitter, Pinterest and Facebook.