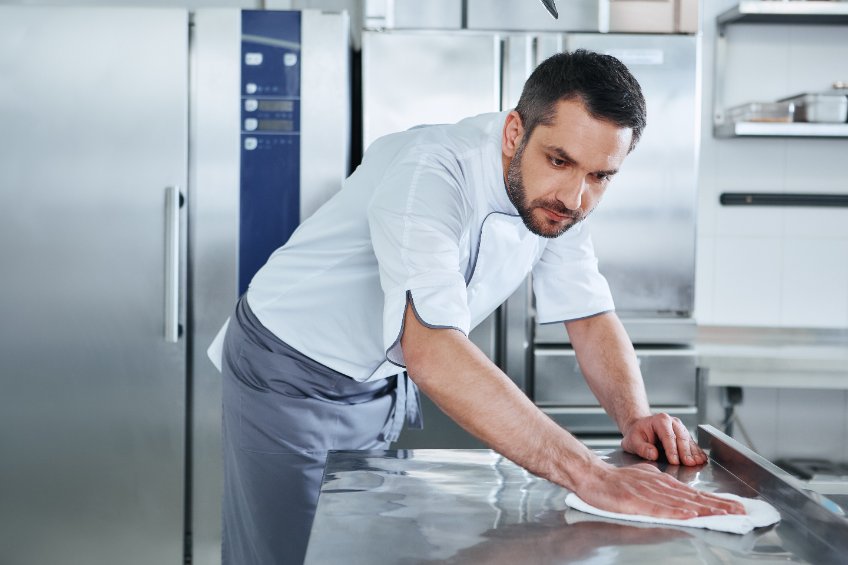 Food Safety Standards For Your Hotel Restaurant — The Ultimate Guide
Recent data from the Centers for Disease Control and Prevention has estimated that about 48 million people get sick, 128,000 are hospitalized, and 3,000 die each year from foodborne diseases in the United States.
This explains why implementing a food safety program is not only mandatory by law, but is also critical to reducing this massive public health burden.
So if you're running a restaurant, below is a complete guide to setting up a food safety program for your business.
HACCP Principles
If you're in the hotel restaurant industry, you must be aware of the HACCP principles. HACCP stands for Hazard Analysis Critical Control Points. And the HACCP principles are a standardized way of locating and regulating food-related hazards (such as food contamination or food poisoning) in the hospitality industry.
These principles outline several foundational protocols and procedures to help food-serving establishments maintain safe and hygienic practices throughout their operations — from purchasing ingredients to preparing, storing, transporting, and serving food.
Adhering to HACCP principles is a good way to regulate operations and ensure that all food prepared on-site is safe to consume and free from food-borne diseases.
So the first step you should take when it comes to maintaining high food safety standards at your restaurant is establishing an AI-powered HACCP plan, which is a powerful technological tool to optimize hotel management.
Setting Up A Food Safety Program
If you are looking to set up a food safety program at your restaurant, the most important thing is to understand the safety standards you are expected to meet. Below, we've highlighted some critical control points to help you get started.
Premises
When it comes to food safety, premises include all buildings and rooms used for food preparation and storage. Food safety standards outline that all such premises must be maintained and kept clean, and the design of such areas must provide adequate space for working and maintaining hygienic practices.
All food preparation premises should have the following:
Handwashing facilities/toilets for staff
Bright, clear lighting
Proper ventilation in kitchens and toilets
Drainage in kitchens and toilets
Changing rooms/washing rooms for staff
Adequate storage space for disinfectants, cleaning chemicals, and other cleaning supplies
Food Preparation Area Design
All food preparation areas must be designed to allow for good food hygiene practices. Food safety legislation lays out specific guidelines on design requirements for food preparation areas, such as:
Preparation surfaces should be made of non-toxic, washable, smooth material and regularly cleaned and maintained.
Room walls should be made of durable, impervious, non-toxic material and regularly washed.
Windows should have insect screens and be constructed to prevent dirt accumulation.
Doors should be made of non-absorbent material that is easy to clean.
Floors should be constructed from a safe material to walk on, should be easy to clean, and maintained in sound condition.
Proper overhead fittings and ceiling design should be used to prevent mold, condensation, and dirt.
There should be adequate washing facilities for equipment and food, with proper hot and cold water washing supplies.
Hotel Staff Hygiene
All staff working in food preparation, handling, and serving areas must maintain good hygiene. It should also be educated on practices and factors that can cause cross-contamination and issues with food. There is a legal requirement for staff training on hotel hygiene in many states, with one example being the US Food Safety Modernisation Act.
Water Supply
There are four major rules on the quality of a restaurant's water supply:
Water used as an ingredient in cooking (or for cleaning, heating, cooling, or steaming food) must meet drinking quality standards.
Any ice coming in contact with food or drink materials should be made with potable water and produced, stored, and handled in line with hygienic standards.
Steam coming in contact with food should be contaminant-free and not contain any substances that can compromise food safety.
Water used for non-food purposes (refrigeration or fire control) should be kept in systems isolated from the main water supply so that it does not contaminate any food, drink, equipment, or surfaces.
Food Waste
Safe food waste disposal is essential for a hygienic, contaminant-free food environment. Food waste disposal guidelines include:
Removing food waste from the food preparation area as soon as possible.
Storing food waste in containers that can be safely handled by waste disposal services.
Using waste containers that prevent contamination, are easy to clean, and prevent access to pests.
Complying with all hygienic and environmental regulations in waste disposal practices.
Staff Training
Any staff involved in food preparation, handling, serving, and clean up must receive full training in food hygiene and understand the responsibility of their work. Food employees should be taught that they share the responsibility with management when it comes to preventing foodborne illness.
For instance, they should know:
How employee health is related to foodborne illnesses
The importance of immediately reporting symptoms of food-borne disease (vomiting, diarrhea, jaundice, sore throat) and exposed infected wounds or cuts to their manager.
Proper hand hygiene and rules of no bare-hand contact with food.
You can refer to FDA's Employee Health and Personal Hygiene Handbook for further details on training your staff in food safety.
Equipment
Any equipment used for food preparation or handling that comes in contact with food should be kept in good condition, made of appropriate material, and thoroughly cleaned and disinfected after every use.
Pest Control
Pest control is an essential component of all food safety programs. You should implement proper measures to prevent pest food contamination in storage and preparation. These measures include:
Building hotel premises with pest control in mind.
Regularly maintaining/repairing/cleaning premises to prevent pest access.
Storing ingredients and prepared food such that pest access is prevented.
Implementing proper handling measures to prevent food spills.
Safely disposing of waste materials that can attract pests to the food environment.
Besides pest control, you should also ensure that food is kept free of contamination from any animals, including house cats, dogs, and other pets.
Transport
Last but not the least, any vehicles and containers used to transport prepared food or raw materials should meet standards of hygiene, protection from contamination, and storage at suitable temperatures. All trucks/containers/transporting equipment must be regularly inspected, cleaned, and maintained.
Conclusion
Adhering to food-safety standards is a critical requirement that no hotel restaurant should ever overlook.
If you're ready to set up a comprehensive food safety program in your business, developing an effective HACCP plan and setting up a digital food safety management system is the first step you should take.
About the author
Violetta Njunina is the Head of Sales at FoodDocs and is an experienced restaurant and event manager with a demonstrated history of working in the food & beverages industry