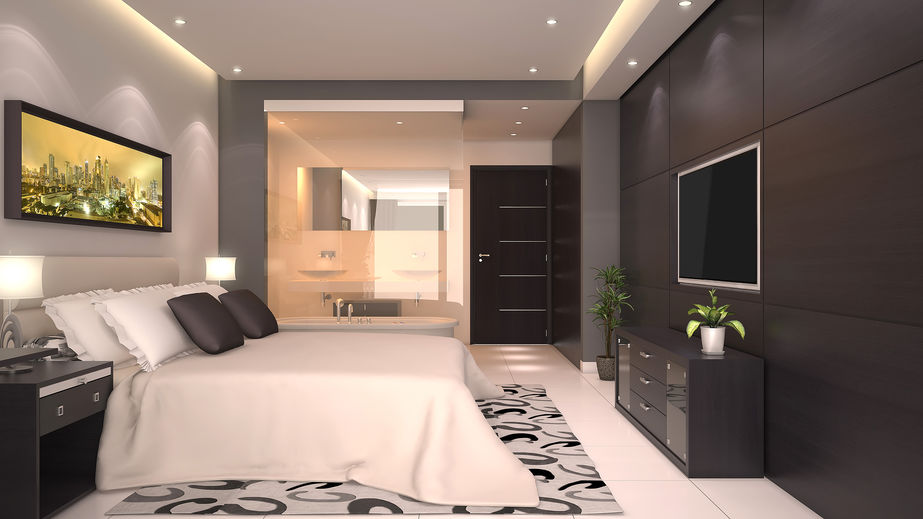 Hotels Influencing the Home
The line between interior design in hotels and the home is getting more blurred all the time. Where once a hotel would be a place of often unattainable levels of design or specific areas designed for high footfall that don't make sense in the home, they are now places people are looking to for inspiration. Why the change? Well, there are reasons from both the hotel side and the visitor side, but the accessibility of travel has certainly played a part. More and more of us travel abroad and we are more used to staying in hotels and hotels need to make sure they are places we feel comfortable. Let us not forget, the rise of online reviewing that makes hotels work very hard to make sure  we are happy.
Social Media
As with most areas of our lives social media plays a role and here it is in the blending of hotel décor and home interior design. Not only do we all travel more but we also get to see more inside hotels via social media, like Instagram. To this end we are now exposed to so much more interior design ideas and we like to use them for inspiration.
Hotel Interiors Have to Work Harder
While we may like the design ideas, we see in hotels there are other factors at play.  It is important to appreciate how hard hotel interiors work. The enormous numbers of people that enter any given room let alone interact with furniture and wall coverings is mind blowing and they all take a toll. The independent hotel show 2019 will be on at the Olympia in October and this only goes to highlight how big the market is for hotel furniture and interiors among many other things. There will be a huge range of hotel specific products that are built to withstand more than the usual daily use. But it is not just the hotel world that will be interested, the social media feeds will certainly be closely watched by homeowner and interior designers alike.
The Airbnb Issue
The concept of Airbnb is now so ingrained in our thinking that renting out a private home for a few days doesn't seem odd anymore, there was a time when it felt very strange. For many people it is not something they wish to do but for others it is a simple way of making money from their empty home. While hotels are certainly not keen on the concept it is ironic that as people who are actually turn to hotels for inspiration and advice on how to decorate. As normal furniture starts to fall apart under the strain of more guests people are now realising they need to take a different approach. But there is also pressure from guests to offer a more "hotel experience" so owners are also looking to hotels for interior options that give a hotel experience. It is clearly a challenging issue for hotels who potentially lose customers to Airbnb properties, yet these properties are looking to them for ideas on how to become more like them…and conundrum indeed!
Home Inspiration
While being sources of inspiration to homeowners may not seem like something useful for hotels it is actually a very positive thing. Someone who follows a hotel because they love the interior design are also highly likely to be a guest at some point. Whether it be a concept like maximalism that people take away from a hotel or some specific furniture types like bar chairs it is all further indication that hotels play a critical role in interior design trends. Being "thought leaders" in interior design allows hotels to reach more people than they would via traditional channels like advertising and booking websites. A hotel willing to be an influencer as well as a hotel is likely to benefit.
Can Hotels Learn from Homes?
Does this thread of influence go both ways? Well it can, but for obvious reasons there are certain home style trends that simply would not work in the hotel industry. Upcycling individual chairs for example would be costly in terms of time and the likelihood of an old chair surviving even a month in a busy hotel is pretty low. However, trends like hygge can certainly be used when creating lounge spaces in suites and larger shared spaces. The rise of mindfulness has also led to "sacred spaces" being created in homes and hotels are hot on the heels of this by creating areas for thought and quite relaxation. Many of these spaces were already there but often had no real purpose, adding candles and natural finishes can create areas for the mind and body to relax without compromising the luxury and style of a hotel. It makes a lot of sense for hotels to be leading the way in interior design, they have more people spending time in them in a year than a home does. With the additional benefit of creating a brand based around interior design hat customers flock to it is certainly something hotels should think about more.
This article was written by Aaron James - Freelance Lifestyle, Interiors and Business Writer from Sussex