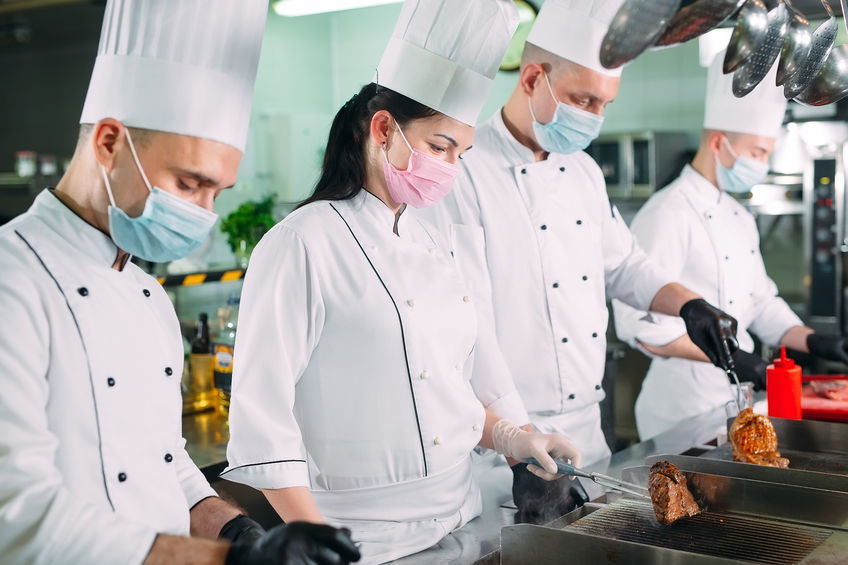 Running a Hotel Kitchen in a Covid and Post-Covid World
Whether the industry will be moving to some kind of normal in 2 months or 12 there is no doubt this pandemic has and will have an impact for years to come. It has made an impact in many areas of hospitality, and most people focus on how guests are treated but social distancing and covid security are just as important behind the scenes, if not more so. Having staff unwell is very damaging for any establishment and a kitchen is a bustling and close contact area and one that could be a hotspot.
Hygiene
As a concept this is certainly not something new. Hotel kitchens are geared towards the very best hygiene standards but what they are working to avoid is a little different from the current threat. Normally hygiene protocols are all about avoiding bacterial contamination. Viral contamination throws up more challenges. Making sure veg are chopped on a different surface to raw chicken is obvious and it is a simple and age-old principle. But a virus that can be spread by simply breathing is a very different ball game. Also, covid security is actually less about the customer and more about the employee when it comes to kitchens. The odds of a meal that is about to be cooked transmitting the virus is very low. However, the odds of one chef breathing and the chef opposite catching it is far higher. What remains the same is hand washing and general cleaning? The normal practices must carry on with renewed vigour in order to keep the team safe. This coupled with masks and space will help a lot.
Kitchen Design
One of the big pressures on hotel kitchens is to try and create social distancing, it can be almost impossible in some smaller hotels and even bigger ones still have narrow galley areas where people pass close by each other. One of the key methods being employed is trying to create one-way flow systems. This means people know which direction others will pass and it avoids bumping into people moving quickly. There are, of course, going to be pinch points and dead ends and these need to be managed. A good restaurant designer can alter how the existing space is used and create new social distancing areas without huge compromise. Space is always going to be a challenge but with CAD design and highly skilled people it can work.
Cold Rooms and Freezers
Cold rooms are a great example of a dead end, staff must go in to get something and then come out again the same way. However, some larger hotels are able to use cold room contractors to create spaces with two doors that allow a one-way flow. This kind of change wills till work well after covid is long gone as a planned flow in a busy kitchen is never a bad thing.
Prep Areas
Prep areas can also be a problem. Where once 2 or 3 people could work shoulder to shoulder in a hot fast paced kitchen, they now have to be apart. Space is a big issue for many hotels but careful use of what space there is can allow for people to be moved apart. In some cases, it may be possible to create a new prep area by extending the building or using a previously unused storage area. Certain things are prepped hours before and do not need to be used directly and these kinds of areas are great for that. For fast prep heading straight to the pass or the burners, moving them away is harder.
Defined Spaces
One of the really important steps to making a covid safe kitchen is defining the work spaces. While one-way flow is really useful, so is avoiding different sections mixing. Leaning round someone to grab a pan is no longer going to work. Set clear sections and make sure people stick to them. Use floor markings and signs to help set out areas.
Face to Face
Chefs working opposite each other may well be a thing of the past. It may be the end of the kitchen island in a commercial sense. A move to chefs working back-to-back rather than face to face may well be the future. It does mean communication and training is more challenging but the benefits outweigh the negatives.
Outside of Work
One area a hotel may find hard to manage is staff behaviour outside of work. Every precaution put in place in a hotel can be put at risk if staff are ignoring restrictions outside of work. It is really important to build in a sense of responsibility for the business as a whole when it comes to home life. The entire future of the business and their job may be related to how "well behaved" they are at home. Adhering to the rules as they change is critical and something management can help to support by outlining just how important it can be.
The Future
We can't tell what things will be like in 2021 but making changes that work in the long term is not going to be a waste. Social distancing is likely to be with us for months to come maybe even more than a year so creating a kitchen that can function in that environment is essential. Staff understanding how it works and why it is important is also critical.
Author: Aaron James