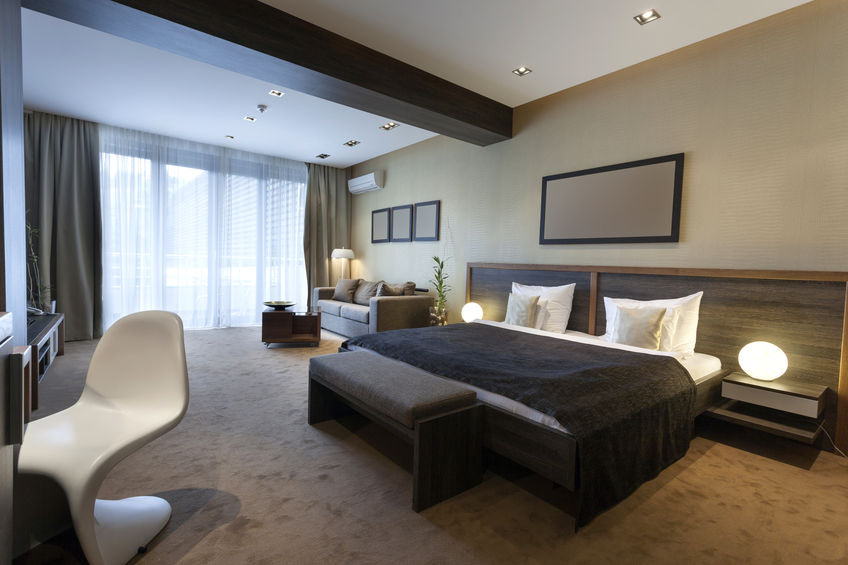 Tips on How to Create a Comfortable Bedroom Space
It's no secret that if you want your hotel to thrive, you should pay attention to the rooms. When potential guests browse your website, it's what they pay attention to most. After all, this business boils down to one key element – lodging. How you put together each space matters in so many ways. To ensure that your guests have the best experience possible, and you obtain the most bookings, take a look at these tips.
Perfect the Layout
A bedroom is supposed to be a sanctuary, so it should feel calm and relaxed. Therefore, it's essential to think about the layout of the space. Arrange furniture in a way that creates accessibility. Don't clutter smaller areas with an extra chair or table – doing so can make the room feel claustrophobic. Instead, make sure guests can move freely in the room. They shouldn't have to squeeze past a dresser to open the door.
Use light paint colors and diagonal lines to keep the space open – bright tones don't necessarily create a carefree environment. Multi-purpose furniture also works well in this case. Don't crowd the area with pictures and knick-knacks, either. Any way that you can make the room feel bigger is better.
Choose the Best Mattress
A comfortable bed is essential. But because no guest is the same, it's often tricky to select the right one. Mattresses have a different level of firmness, from very soft to extra firm. You'll likely want to choose somewhere in the middle so you can accommodate most guests. Whether you're a back, side or stomach sleeper, you need a decent amount of firmness to provide support.
If you want to switch things up, think about bed frames. Metal creates a more industrial feel, while certain shades of wood offer a traditional touch. Cushioned headboards can make the room seem all that more luxurious. The bed is the key part of the room – even the smallest changes make a difference.
Provide Ideal Lighting
No guest wants to stay in a room that's too bright or too dark. So, try to meet them halfway. Place a handful of light fixtures throughout that allow for a bright space when needed. Lamps on desks and bedside tables give guests control over what areas are lit, so they can do work even when someone else in the room wants to rest. Then, put in heavy curtains to create a darker atmosphere. This way, guests can sleep whenever they please.
Add Elegant Sheets
Along with the perfect mattress, guests want cozy sheets and pillows. Go for solid, neutral-tones for a modern feel. For a durable and luxurious feel, choose sheets that have about a 400 thread count – the higher this figure is, the nicer it'll feel. Choose comforters that aren't too heavy, so guests don't overheat. When it comes to pillows, provide one that's soft and one that's firm. This way, guests can sleep with the one they like better.
Include an Accent Rug
Too often, hotel room floors are one dull color and texture. An easy and cost-effective way to change this is to place a rug in the space. Doing so will help to create a cozier and more luscious atmosphere. Even if you don't have much of a budget, this is a terrific way to achieve that expensive look for less. A rug can also add a pop of color if you so desire. As a bonus, they aren't too difficult to clean.
Turn Your Rooms Into Cozy Sanctuaries
Because lodging is the central factor of the hotel business, it's important to make sure your rooms are comfortable. Whether a guest stays for one night or a week, these elements can make all the difference.
Follow Kacey on Twitter and subscribe to her blog to keep up with her travels and inspiring posts!