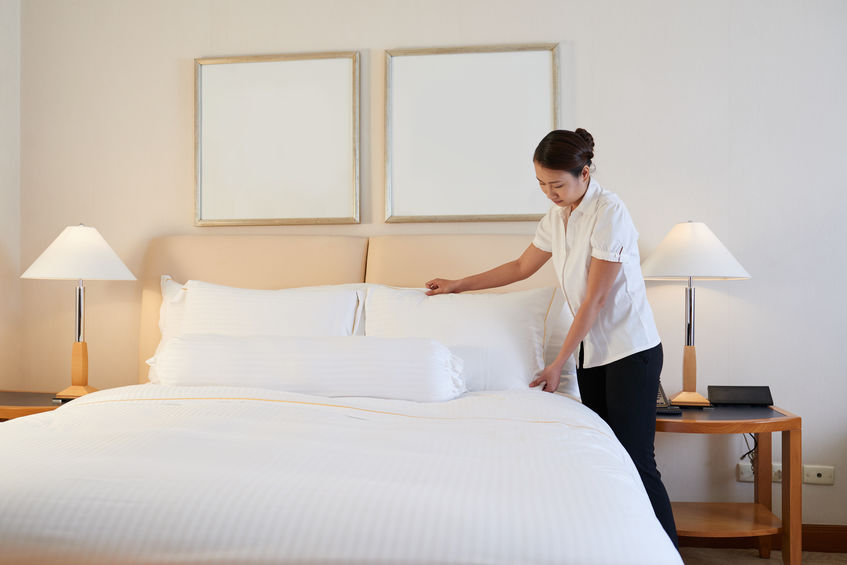 Why Good Service Is the New Standard for Hotels
The way people vacation is changing. Travelers today seek experiences more than amenities, and this paradigm shift impacts the way hoteliers conduct business. If you want to keep your revenue stream healthy, now is the time to bolster your service.
Why? Today's bookers expect top-notch service for their travel buck. Read on to learn how you can elevate their experience and drive higher profits.
Start with the Check-In
Before your guests even arrive, do you know the purpose of their visit? If you don't, now is the time to train your staff to ask. This question enables you to customize offerings to their needs.
For example, if a family is traveling on holiday, they might appreciate a token welcome gift that contains coloring books and crayons, and perhaps a small toy for their little one. If they're in town for business, they may want to know where they can stay fit on the road or treat a client to a meal.
Elevate Concierge Services
Did you know that at some establishments, the concierge assists guests not only with locating dry cleaning services but tying a bow tie, as well? A correctly trained concierge can be one of your establishment's most substantial assets. Teach them how to elevate their level of professionalism by offering services guests can't find elsewhere.
When making hiring decisions, aim your recruitment efforts at your local area first. Those who live in a town known as an artist's retreat can lead tours of the top galleries. They can also recommend restaurants that might not appear on Yelp, but that nevertheless serves up some of the tastiest local grub. Guests today appreciate locally sourced foods, and they'll applaud someone who can introduce them to nearby flavors.
Make Cleanliness a Priority
Yes, your guests will investigate the mattress for bed bugs, and they can infest even the most luxurious establishment. More than 80% of hotels have reported needing a bedbug infestation treatment in the past year.
Train your cleaning staff to investigate potential problems, using a flashlight to explore areas like picture frames and headboards. While you won't like it if they identify an issue, it's far better than having a guest report the problem — or worse, demand a refund due to bites.
Expand Your Offerings
Maybe you lack the budget to put in an exercise facility on-site, but can you hire an instructor to come in and lead yoga or other fitness class for guests? Don't overlook forming partnerships with local vendors to expand your service offerings. For example, if your establishment lies in a popular tourist destination, can you join forces with a tour guide company to offer discounts to guests?
If your property lies in a beachfront location, can you team up with a snorkeling or deep-sea fishing company? What about massage therapy? Perhaps your establishment lacks a full spa, but you can have a local therapist on-call to provide services in guest rooms.
Focus on Sustainability
Today's travelers want to tread lightly on the earth , and they appreciate eco-friendly measures. One of the simplest ways to increase the perception of your hotel as sustainable is to train staff members to ask the right questions. For example, if cleaning services find a guest in their room, they can ask if they want a change of sheets, or if they'd prefer to reuse them.
Little gestures can make a significant difference. For example, make sure that all staff knows the local public transportation options available so that guests don't have to take an emissions-producing Uber everywhere. You can also provide bicycle rentals at a relatively low investment cost per unit.
Remember "Beauty and the Beast"
Who can forget the tune "Be Our Guest" from the classic Disney film? The best way you can elevate guest service is to keep your staff members singing happy songs, like those animated characters. If you're a part of a national or international chain, you can offer perks such as discounted lodging at member locations. If you're a stand-alone entity, you can let your employees share in the partnerships you form with outside vendors.
Remember, too, that your workers are human beings, not robots. In the U.S., 25% of the private sector workforce receives no paid leave, and many of them work in the hospitality industry. This benefit counts as an indirect cost to your company — you already budgeted for a full day of labor expenses — so give them a break. If your workers feel that you care about them, they'll perform at their peak.
Make Good Service Your Hotel's Priority to Maximize Profits
Top-notch service drives repeat guests. Train your staff on how to elevate the customer experience today.
Follow Kacey on Twitter and subscribe to her blog to keep up with her travels and inspiring posts!