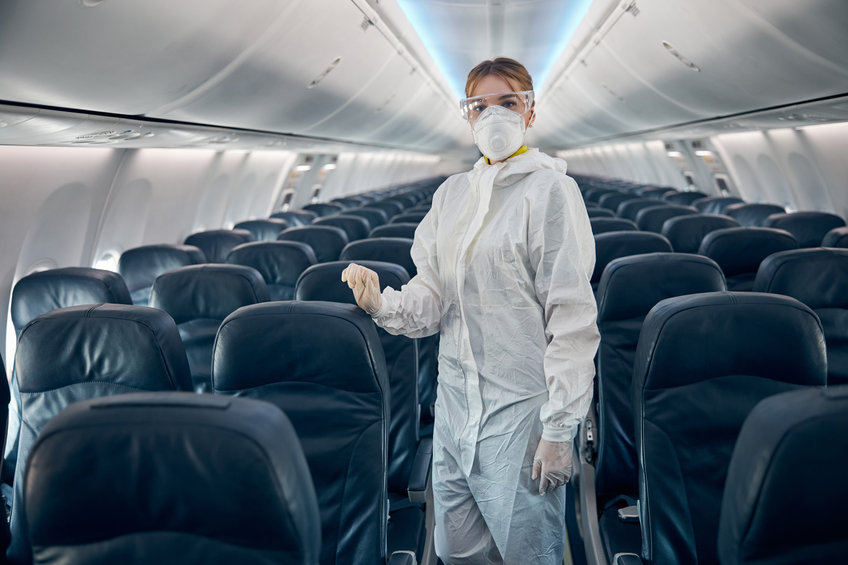 Four Facts to Understand the True Impact of COVID-19 in the Tourism Industry
It is difficult to obtain specific results for the adverse effects of COVID-19. Many industries have suffered the economic changes of the pandemic since the beginning of 2020. Measures such as the lockdown have caused mass layoffs, low production, and the cancellation of events in hundreds of cities. However, mentioning industries that have taken a hit like no other, it's time to talk about tourism.
In this article, you will read about how COVID-19 affected the tourism industry in America and the world. We will show you real statistics and facts that have changed the reality in hotels, resorts, flights, beaches, and many tourist areas of the world. We will also tell you how this industry is changing in 2022, the strategies to overcome the effects of the pandemic, and more key info for you.
Canceled Flights: The First Step to Stop the Spread of the Virus
Spring 2020 was one of the worst nightmares for airlines all over the world. According to Statista, 20 United States air services suspended 100 percent of flights due to COVID-19. It was a complete loss that took many months to recover, but it was essential because travel between cities, states, and countries is the most common way to spread the virus worldwide.
What Are They Doing Now?
The world's airlines operate strict health control systems to prevent further infections. Despite the threat of variants such as Omicron and the prohibition of access to several nations, this industry continues to restore its normality step by step. To board a plane, it is necessary to present your proof of vaccination, obtain negative COVID-19 test results, and wear a mask.
The Fall and Recovery of Hotels
In 2020, COVID-19 was a difficult disease to control, especially in small enclosed spaces. The Asahi Shimbun, a famous Asian newspaper, reported that the hotel industry had the most bankruptcies due to the coronavirus in 2020. The figures were disappointing, especially for nations dedicated to tourism. Getting a hotel reservation was an impossible mission.
What Are They Doing Now?
After vaccinations, thousands of hotels activated their lodging services in America and worldwide. The hotels and spaces within these buildings handle capacity less than 100 percent, a measure that may be frequent in the post-COVID world. It is usual to see some restricted recreational areas, deep cleaning in rooms, and sanitary demands for the guests. According to Globe News Wire, the hotel industry was expected to grow 19.1 percent in 2021 ($801.9 billion).
Tourist Destinations: Lockdown Sequels
The world's famous amusement parks, natural parks, monuments, historical sites, and museums also stopped the flow of tourists due to the pandemic. It is interesting to think of places like the Eiffel Tower, Niagara Falls, Disney World, or the Great Wall of China without tourists. Losing thousands of customers was a low blow for companies and governments. These tourist destinations are places where COVID-19 could spread easily.
What Are They Doing Now?
Security protocols are mandatory and necessary measures to maintain the activity of these famous places. In the case of national parks, governments publish access conditions on websites, conduct fever checks, and limit the number of people to prevent infections.
On the other hand, companies follow strict standards appropriate to the new normal. Before entering these destinations, masks, proof of vaccination, and adequate body temperature are the most frequent requirements. Many travel agencies help you book your tickets for museums or amusement parks in advance since wait times can be long.
Domestic Tourism: An Accurate Strategy Due to COVID-19
Domestic tourism was an important alternative during 2020. After closing borders in many countries, Americans increased travel within the United States. Although states handled COVID measures differently, citizens traveled to local sites, increasing the income of their cities. A Condor Ferries report showed that Americans contribute 2.29 billion domestic trips each year . The cities most visited by local tourists are New York , Orlando, Las Vegas, and Miami.
Better Tourism Services for the Future Thanks to Technology
The pandemic was a test to measure the effectiveness of many industries. Technology is a magnificent ally that allows tourism and work activity to continue recovering from the aftermath of COVID-19. Currently, data science services optimize hotel functions to improve the customer experience.
The personalization technique motivates guests to visit the hotel. In today's age, it is important to consider buildings that offer medical support, clean areas, attentive workers, and personalized attention to the standards of each guest.
Conclusion
Fighting the pandemic, the variants, and the after-effects is a constant task on the agendas of all industries. It is interesting to learn how world tourism is progressing little by little towards a new normal, thanks to technology, medical services, and logistical support from each employee. The objective is to guarantee a unique and safe experience for any user.
Author: David Torrealba From Zulia, Venezuela, David started working with Career Karma in October 2020. He has a Bachelor's Degree in Social Communication and Print Journalism from Universidad del Zulia. He works as a journalist at Noticia Al Minuto alongside his content writing duties with Career Karma. He previously worked as a content writer with AKB Fintech. His interests include journalism and marketing.