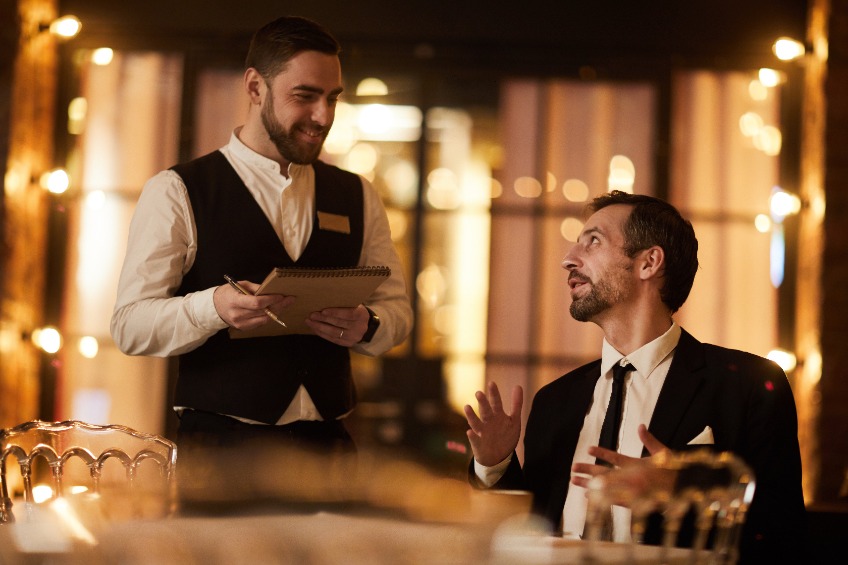 6 Key Success Factors for your Hotel's Restaurant Business
A hotel's restaurant is one of the most profitable departments. The sole existence of a restaurant can attract more people to the hotel. Today, 95% of travelers can be classified as food travelers. If you manage it well, this can prompt an even bigger revenue because people will be dining at your restaurant regularly, ordering room service, and you can even attract external guests thanks to good word-of-mouth.
As a matter of fact, a highly-ranked restaurant inside your hotel can be the reason why you have more guests booking their stay in it. Eighty percent of travelers research quality food options before their trip, and having a great restaurant inside their hotel can be what convinces them to book.
Still, managing a hotel's restaurant is not an easy endeavor. Below you'll learn how this differs from managing a standalone restaurant, and which factors can affect your restaurant's success.
Hotel's restaurant management vs standalone restaurant management
Hotel restaurants come with all the responsibilities of standalone restaurants. On top of that, they have extra responsibilities, such as:
Serving at more than one place. Not everyone will want to walk to the restaurant to get some food. You should be prepared to serve them in multiple restaurants if your hotel complex is big, as well as the lobby - or even at a food area by the pool.
Room service orders. Not offering room service can be bad for a hotel's restaurant success. Thirty-one percent of guests at hotels expect it - and they expect 24-hour room service!
Room tabs. Hotel dining is different from traditional restaurant dining because most guests will want to charge their tab to their room. This requires additional management of restaurant tabs.
This is how a hotel's restaurant is different from traditional restaurants, but you'd still have to focus on restaurant profit margins, advertising your restaurant, creating a menu with delicious meals for your targeted diners, etc.
Factors for the success of your hotel's restaurant
There's a lot of work to put into making your hotel's restaurant a success. Here are the key success factors to focus on:
1. The restaurant's profit margin
Profit margins have the incredible power of telling you if you're managing a successful and sustainable business. These are constantly changing across the restaurant industry, though. Just 2 decades ago, the profit margins in the industry stood at around 15% or 20%. Today, these range between 4% and 7%.
If your hotel has a restaurant, you are not only a hotelier - you are a restaurateur, too. This means that you need to know the profit margins in the industry and at your hotel. Lightspeed's restaurant profit margin guide will tell you all you need to know and help you combat this problem by offering solutions such as:
Optimize the prices in your menu so that they fit your bottom line and the customers' expectations
Update the layout of your menu and help you highlight and sell the most profitable dishes
Train your restaurant staff to maximize sales and retain high-quality service
Create and offer a good loyalty program
Promote your restaurant on social media
Speed up and improve the table turnover to serve more guests
Manage your employees by optimizing the scheduling process (this will help you maximize sales and reduce labor expenses)
Reduce your environmental footprint and food waste and save on utility bills
Add more seating to increase the revenue per service
There's no golden rule for increasing the profit margins of your business. Still, combining these tactics has shown tremendous results in the restaurant industry. Just as you need a property management system (PMS) like hoteliga to organize your hotel's work, you need a point of sale system (POS) to manage your restaurant's work and orders.
2. The food safety program
In the US alone, 48 million people get sick from foodborne diseases. This is why a good food safety program is mandatory by law. It's the factor that will keep your business up and running, and help you avoid high penalties.
But, the law isn't the only reason why you need to follow food safety standards. If your restaurant has a reputation for handling food carefully and keeping a clean kitchen , this will be a significant boost for its reputation.
After all, no one wants to dine in a restaurant that is constantly penalized for not following food safety standards or a constantly dirty place!
The most important guide for this success factor is the HACCP. Also known as the Hazard Analysis Critical Control Points, these are standardized methods for locating and regulating hazards related to food in the industry, such as food poisoning or contamination. There are many procedures and protocols that help restaurants in maintaining hygienic practices through operations such as purchasing and storing ingredients, transporting food, and preparing it.
3. Costing
Costing is a vital factor for the success of any business, including a restaurant in your hotel. There's a lot to consider when you set your menu's prices, including:
Inventory costs and food expenses
Your staff's salary
The cost of each dish
Expenses such as lease, utility bills, maintenance, and repairs
To get a general idea of what the best pricing is for your restaurant, you might want to check the food offers in local restaurants and cafes. Keep in mind that hotels are usually higher priced, especially the additional features like room service.
Work out the cost of each dish and price accordingly. There's one generally accepted rule in the restaurateur business - make a gross profit of at least 70% per dish. When you cover all expenses, you should be left with a profit, after all.
4. Ingredient sourcing
Where you get your ingredients can determine a lot. It can increase your cost per plate, open up more work for your chefs, determine how and where you can store them, etc.
This is why ingredient sourcing is an important factor for your hotel's restaurant. One great tip is to source locally produced items when possible. Hotel guests often look forward to the opportunity to try some local dishes when they travel, which is a great opportunity for you because you can save by purchasing from local suppliers. After all, you'll cut down on transportation costs, which sometimes account for more than the ingredient costs!
5. Marketing
Marketing is a critical part of managing a hospitality business. Most of your restaurant's guests will be people who are staying at your hotel. Unless you make the information about your restaurant available to them online, they won't know what you are offering.
Technology gives you the means and the opportunity to promote the image and reputation of your hotel, and invite people to dine in your restaurant. Here is what you can accomplish by creating effective hotel ads and implementing a smart marketing program:
Inform potential restaurant guests about your services and amenities
Informing them about the new menu items and services you offer
Introducing new facilities or the upgrade of existing ones
Providing information about special offers and deals
Showing guests what your restaurant and meals look like
Shows off the restaurant and hotel's location to help them find it more easily
6. Restaurant's staff
Hiring the right people for your restaurant can affect everything from the food quality to customer satisfaction. Right alongside ingredient quality, the people who work at your restaurant are the most important factor for guest satisfaction.
Ideally, you should be looking for people with experience and expertise in doing their work. Your chef, for example, needs to be skilled and aware of food health standards. Your waiters should know how to serve and communicate with guests.
In addition to this, your restaurant's staff should possess the following qualities:
Ability to learn on the job and maintain hotel standards
Great organizational skills to make the experience more enjoyable for the guests
Teamwork skills to present a unified front and boost the operational efficiency of your restaurant
Communication skills to optimize the guest experience
Time management to balance hotel organization and guest needs
Inventory management skills
Cleanliness to keep the place clean and adhere to health standards
Let's make your hotel's restaurant a must-visit location!
If you manage to boost your profit margins and offer an amazing experience to your guests, this can result in more hotel guests, as well as local people dining at your restaurant. Keep in mind that this is a work in progress. The best thing about it is that - the more you try, the more you can succeed!
Author bio
Nadica Metuleva is a freelance writer who's passionate about creating quality, original content. She holds a Master's degree in English teaching and a Bachelor's degree in translation. With 8 years of experience in the freelance writing industry, Nadica has become proficient in creating content that captivates the audience, drives growth, and educates. You can find her on LinkedIn.