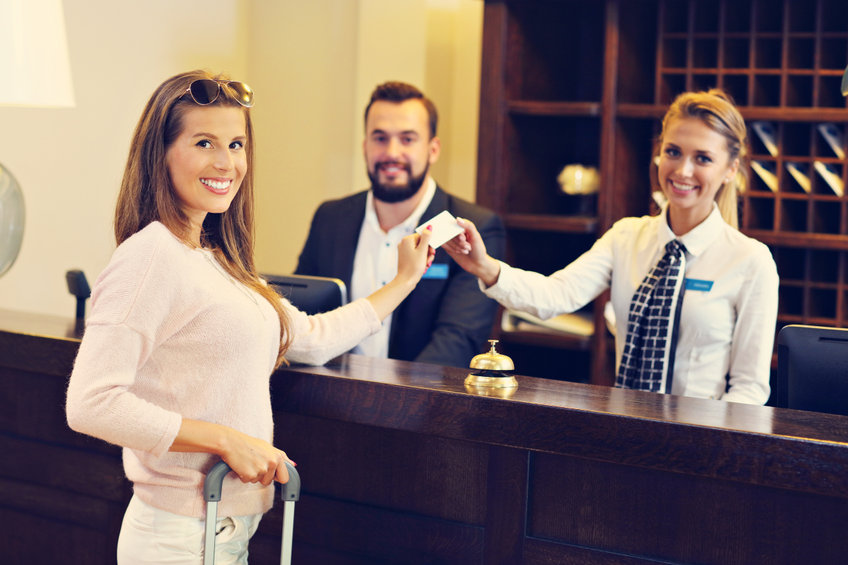 The Relationship Between Guest Satisfaction and Hotel Employee Longevity
The leisure and hospitality industry sees significantly higher turnover rates than any other field, averaging out at 84.9% instead of the nationwide average of 47.2%. Faced with limited ability to create work-life balance and draining customer service expectations, many hotel employees are placed in frontline positions that cause them to bear the brunt of client dissatisfaction. Hotel jobs can burn out many employees, which is never ideal for your business either.
Creating goodwill between guests and staff is a great first step toward improving hotel employee longevity. When hotel managers and owners play a stronger role in supporting guest needs, it can create a significantly more peaceful, cohesive, and positive experience for all stakeholders in the hospitality industry. Here are more insights into how hotel leaders can support great customer experiences and, by extension, a sustainable staff.
Make Your Booking Process Easy and Transparent
Planning a trip can be a stressful part of any traveling experience. When a hotel booking process is frustrating, it can make trip planning even more complicated than before. By making bookings as easy to understand and complete as possible, hotel managers can give future guests a positive first impression of their brand. This can set your employees up for success.
One way you can simplify the booking process is by minimizing the amount of information guests need to provide. Whether they're booking from your website or over the phone, guests will be delighted to see how quickly their booking goes through.
Transparency can help foster trust in your staff, too. Hotel managers and owners can increase their transparency by avoiding hidden fees, making cancellation policies clear, and displaying real-time room availability. This way, guests won't be surprised by unplanned costs or overbooked rooms when they come to stay — and as a result, your employees can deal with fewer complaints.
Take Customer Reviews into Account
Encouraging customer reviews isn't just a great way to build your reputation online. Getting customer feedback can also help hotel owners accommodate client needs, improve hotel policies, and cultivate a better experience for guests. In turn, this can create a better employee experience. When you pay attention to and quickly correct recurring issues — like slow internet, uncomfortable mattresses, or lack of hot water — you can prevent staff members from being burdened by incessant, avoidable complaints.
If your reviews reveal that there are areas in which your hotel employees need to improve, you'll also have the opportunity to train your employees accordingly. For example, if you receive complaints about bellhops mishandling luggage, you can train them to impress guests instead. This way, your hotel employees get gentle corrections from managers behind the scenes instead of harsh criticism from guests.
Well-trained staff members can feel prepared to take on their roles, rather than stressed out, all while helping you improve your hotel ratings over time.
To encourage customer feedback, consider offering discounts for future bookings in exchange for reviews and sending follow-up emails to every guest after their stay
Implement Helpful Technology Solutions
Technology can be tremendously helpful for reducing your hotel staff's workload without taking away from the guest experience. In fact, high-tech solutions can actually impress your clients. Some options tech solutions that hotels are beginning to offer include
Mobile apps that offer hotel information and allow for quick requests (like spa bookings and room service) to reduce calls to your front desk
Wristbands using near-field communication (NFC) for easy purchases at hotel bars or hands-free room unlocking
In-room virtual assistants like the Amazon Echo or Google Nest
These technologies allow customers to help themselves — which many guests may actually prefer.
Turn Customer Satisfaction into Employee Happiness
So how do you turn increased customer satisfaction into employee happiness? As you reduce the burden of customer service expectations on your staff, you can focus on fostering open communication within your team. Great managers take the time to listen to their employees and continuously seek ways to strike balance between staff and customer needs.
Reducing the draining workload that hotel employees face can also help you improve their work-life balance, which enables your company to reduce costly employee turnover. For instance, you can encourage employees to take vacation days — and use your hotel for free or for a steep discount — and limit overtime requests.
Build a Long-Lasting Team
Hotels frequently see high turnover rates due to the large demands of customer service roles. As a hotel manager or owner, you can play a larger role in meeting the needs of guests and reducing the burden placed on your staff. Be proactive about making improvements to your booking process and enhancing your hotel based on customer reviews. Then, implement technology that allows customers to help themselves during their stay.
The better your hotel experience becomes for guests, the less your staff members have to deal with stressful complaints and time-consuming tasks that never seem to end.